What are the characteristics of glazed metal mosaic?
Categories: Industrinal news
Stars: 3Stars
Visit:

-
Release time: 2016-10-03 16:20:00
Glazed metal mosaic is a kind of new building materials.The metal mosaic is directly made of metal,also known as a metal tile or brick.Recently,there are a kind of imitation of metal mosaic with color glazed mosaic,which has great decorative effects as well as warm feeling touch.And of course,the price is relatively high and used mostly in public places.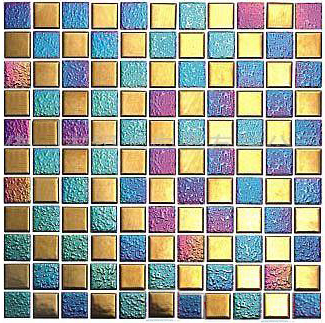 Most of metal mosaic are made with a layer of metal glaze on the surface of quartz stone mosaic,few part of metal mosaic will put a small amount of metal components in the bottom raw material.So far,there appear to be used perfect substitutes of the original metal material,and the price is cheaper a little with good anti slip effect too.
The main characteristics of glazed metal mosaic are gloss and durability,tough texture,static beauty for the wall decoration,as well as good thermal stability,acid and alkali resistance,easy cleaning and good decorative effects.
Recommended Products